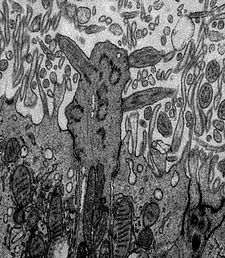 Group members
Prof. Dr. med. Martin Witt
Dipl. Umweltwiss. Anja Meyer
Dipl Biol. Katarina Gerdinand Current
PhD students
Anja Meyer: "The olfactory system in NPC1 mice and impact of combination therapy with miglustat/cyclodextrin on its recovery"
Lina-M. Krysewski: "The VNO in Huntington´s disease"
Diana Heimes: "Morphometric analysis of olfactory-related cerebral nuclei in Niemann-Pick-C1 mice"
Scientific profile
Functional Morphology of Chemosensory Systems
Our group is currently working on the impact of general neurodegeneration on olfactory acuity. We use several animal models that mimic defects occurring in human diseases such as Idiopathic Parkinson´s Syndrome, Huntington´s disease or Niemann-Pick disease. Most outcomes are based on immunohistochemical and electron microscopical techniques.
Further interests:
• Distribution pattern of human olfactory epithelium
• Characterization of olfactory cell cultures
• Regenerative potential of the human olfactory system
• Human olfactory bulb and central olfactory pathways
• Morphology and immunohistochemistry of the human vomeronasal organ
• Functional morphology of taste buds
• Histocompatibility of anterior eye chamber stents (glaucoma research)
Methods
• Immunohistochemistry
• Electron microscopy
Cooperation
• Marcus Frank, PhD, Electron microscopic center
• Anja Bräuer, PhD, Anatomy, Molecular Neurobiology, Carl von Ossietzky-Universität Oldenburg
• Thomas Hummel, MD, PhD, Dresden University of Technology Medical School
• Jörg Strotmann, PhD; Physiology, University of Hohenheim